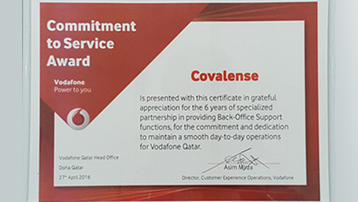 Vodafone Qatar presents Covalense with Commitment to Services Award
For the past 6 years, Covalense has been one of the prime vendors of Vodafone Qatar and we have been serving the CSP to maintain their customer information in Siebel CRM for more than 3.5 million customers. We have successfully completed the migration of over 45,000 customers' data of Vodafone Qatar when Siebel CRM was upgraded.
As part of the compliance and governance, KPMG (deputed by Vodafone Qatar) has audited, certified and appreciated Covalense for adhering to the security norms and standards as agreed with Vodafone Qatar. Also from time to time during this engagement, Covalense has been supporting Vodafone Qatar with a variety of projects relating to the customers of Vodafone Qatar.
In recognition of our commitment towards services and diligent performance, Vodafone Qatar presented us with a 'Commitment to Services Award'.
A team consisting of Jayadev Thimmaraju, Technical Manager and Bharat Bellamkonda, Sr. PM visited Vodafone Qatar on 26 & 27 April '16 in Doha where the Director Customer Experience Operations presented the award to Bharat.
Congratulations to Bharat and his team for their extraordinary performance all these years and earning this unique distinction!
We would love to hear from you