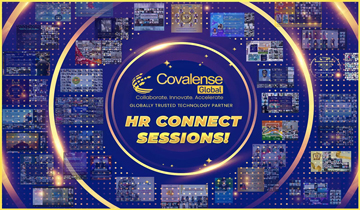 153+ HR Connects over the last 3 years
Covalense launched "HR Connects" in 2020. The platform is designed to increase employee interaction and get a greater insight into our work culture. These connects are arranged every Friday. And as of this December, we completed 153+ connects! 
Through these connects our global teams are engaged in fun-filled activities, tech discussions, fitness and wellness workshops. 
Team building is an important task. And post-pandemic with a rise in hybrid work culture, this has become even more important. Sessions like "Know Your Manager" and "Know Your Millennials" conducted on a regular basis helped strengthen the team spirit, while also giving a platform to discuss career growth and personal development goals. 
"Techie Talks" connects were frequently held to keep abreast of the latest technologies in the industry and to share their personal take on them. 
Holistic health initiatives were introduced in the wellbeing space. Workshops on yoga, meditation, fitness and nutrition were conducted to promote a healthy lifestyle. 
We encouraged our teams to showcase their artistic talent through fun-filled activities revolving around music, dance and art. The musical sessions always kept the festive mood high during the festivals' celebration. 
Over the last 3 years, these sessions have been a huge success with the global teams. To keep this going, more interesting topics and ideas are in the making with our amazing HR Team!
We would love to hear from you