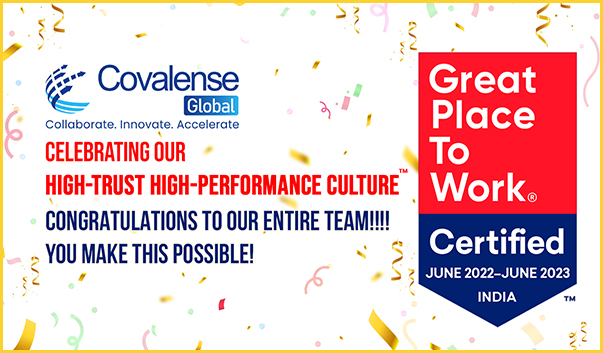 Covalense Global is Great Place to Work-Certified™!
Congratulations to everyone at Covalense Global for achieving this! This is a great moment of pride and being able to build a high-trust and high-performance culture!
At Covalense Global, we are all about people! Our passion for our work and for our customers is at the heart of what we do! We are incredibly proud of the diverse and inclusive culture we have built. We are thankful to all our teams for the constant support in building, nurturing, and strengthening the great workplace culture!
"It is not the work we remember with fondness, but the camaraderie, how the group came together to get things done"
At Covalense Global, We have a flattened Organization structure and we have decentralized Operations, that have empowered Teams to take decisions faster.
We have always strived to give a fulfilling career to our entire team, an excellent learning & challenging projects and a pleasant Work –Life Balance.
We always had Open communication with the entire team and listened with great interest to all they had to share and made improvements accordingly wherever required.
The increasing Team size, diverse Work force, challenging Client Deliverables, different time zone projects, virtual workplace have reduced the frequency & Effectiveness of our Employee Experience Survey with all.
Great Places to Work Survey had an elaborate Questionnaire and best exciting part was when more than 50% of our team members filled and submitted the survey within 72 hours of its launch.
The Trust the Employees has towards Organization was assessed in 5 Dimensions
Respect for People
Camaraderie among Team
Pride of Employee
Credibility of Management
Fairness at Work Place
We are extremely delighted with the response of Covalensians and the feedback they shared, as it has resulted in Great Place to Work Certification to Covalense Global.
This Certification not only brings in lots of accolades to all of us but also reinforces our commitment to strive to make Covalense Global an enduring organization and make it a Great place to work Always!!
Gita Madhuri,
Director HR , Talent Acquisition , L & D
We would love to hear from you